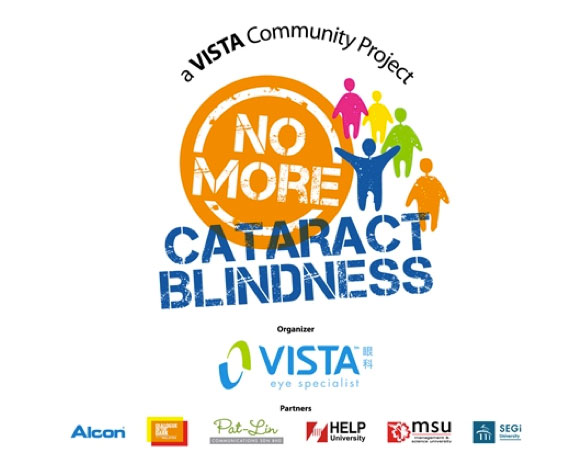 Company Background
A leading provider of eye care, VISTA Eye Specialist (VISTA) is committed to changing patients' lives by safely helping them see their best, thereby employing the latest technology and clinical practices to provide the safest procedures and services with the best possible results.
VISTA has been at the forefront of the eye care industry since its establishment in 1999. It specializes in the following area of eye care:
Correction of Shortsightedness with No-Blade LASIK and Implantable Contact Lens (ICL)
Correction of Reading vision with KAMRA
Cataract Surgery with No-Blade Cataract Surgery with Multifocal Lens
With VISTA's zero-compromise policy, anyone who walks into VISTA's doors will receive the same world-class service they can find at the best eye centres around the world, be it in New York, Sydney, or London. With this in mind, the organisation invests continuously in top-of-the-range ophthalmic equipment with the latest technology that offers minimal discomfort and significantly less side effects. Highly comprehensive tests on potential patients are conducted before any services are recommended, and all eye care procedures are performed by VISTA's experienced eye specialists who have undergone stringent training and certification process in the latest technology.
VISTA's on-going commitment to staff welfare as inspired by their #1 core value of "Recognition, Reward, and Retention", earned the company HR's Asia magazine's "The Best Companies to Work for in Asia" in 2013.
VISTA reiterated its commitment to its CSR initiatives by winning the coveted Prime Minister CSR Award 2012 in the Small Company CSR Award category. The company was also recognised for ensuring the holistic development and well-being of its employees at The Star Outstanding Business Awards (SOBA) 2011 by winning the Platinum Awards for Business of the Year and Best Employer of the Year on top of winning Best Employer at the same awards in 2010. VISTA continues to raise the bar in the eye care industry by winning the SME Magazine with the SME 100 Award in 2010 and the 2010 Malaysia Frost and Sullivan Vision Care Center of the Year Award.
VISTA operates five (7) eye specialist centres and is headquartered at The Curve in Petaling Jaya with branches in Johor Bahru, Bangsar, Klang, Bukit Mertajam (Penang) and the newly opened centers at AmpWalk Ampang and at One City Mall @ USJ 25, Subang Jaya. All centers feature well-designed environments with excellent and dedicated Customer Care staff accompanying patients on their journey from blur to clear vision. It has performed over 20,000 Cataract & LASIK procedures since it started in 1999. In line with their umbrella CSR initiative, VISTA Through The Eyes Of Love Campaign, VISTA provided 100 free cataract procedures for the needy via the VISTA-Rotary Club collaboration in 2011.
Being ahead of the game, VISTA continued to provide the best and latest eye care technologies to its patients by being the 1st country in Asia to introduce theLenSx® No-Blade Cataract Surgery in 2011. In 2012, VISTA accomplished yet another milestone by being the first in Asia to implant the Visian® Implantable Contact Lens V4c CentraFLOW™ andiLASIK2 in Asia.
In 2012, all five (5) VISTA doctors have presented over 20 various clinical papers, posters and films at major meetings which include the American Society of Cataract & Refractive Surgery and the European Society of Cataract & Refractive Surgeons. VISTA doctors have also published various clinical and practice management articles in the Cataract & Refractive Surgery Today Europe Magazine.
Historical Milestones
VISTA was officially opened in August 1999 and was the first dedicated LASIK Center in Malaysia that specialises in LASIK Vision Correction. In anticipating and fulfilling patients' demand for advanced techniques and safe procedures, VISTA was at the forefront in introducing some of the latest technologies and refractive procedures in Malaysia. Among its many firsts include:
2013:
Conferred The Best Companies to Work For in Asia by HR Asia Magazine
2012:
Bestowed The Prime Minister CSR Award 2012 in the Small Company CSR Award category
Top 5 Visian ICL Implanter in the World
Top Lentis Multifocal IOL User in Southeast Asia
Top KAMRA user in Southeast Asia
Among the 1st to introduce iLASIK2 powered by iDesign in Asia
Awarded the VISTA – ALCON Center of Excellence for Femtosecond Cataract Technology by Alcon
The 1st to introduce ICL v4C in Asia
The 1st center to launch Bausch & Lomb Envista Toric and Abbott Tecnis Toric in Malaysia
Contributed various articles in the Cataract and Refractive Surgery Today Europe Magazine
Presented over 20 clinical papers, poster and film in various international eye conferences including the American Society of Cataract and Refractive Surgeons
2011:
The Star Outstanding Business Awards (SOBA): Platinum for both Best Employer and Business of the Year Award
Among the 1st in Asia to introduce the LenSx No-Blade Cataract Surgery
2010:
The Star Outstanding Business Awards (SOBA): Gold Award for Best Employer
Among the 1st in Malaysia to introduce the AcuFocus KAMRAÔ corneal inlay for the correction of presbyopia (reading vision).
The 1st center in Malaysia to implant the Bausch + Lomb Crystalens® (AO) Aspheric Optic Lens
Vision Care Center of the Year Award 2010 by Frost & Sullivan
Best LASIK Center by Malaysia Spa & Wellness in 2006 and 2011
SME Award by SME Magazine in 2009 and 2010
Profiles
Press Release